Physico-Chemical Parameters and Ichthyofauna Composition of Oyan Dam Area, Ogun State, Nigeria
Adesola O. Osibona

University of Lagos, Nigeria

Simeon O. Ayoola

University of Lagos, Nigeria
Keywords:
Cichlidae, Fishing activities, Ichthyofauna, Oyan Dam, Water quality
Abstract
The surface water physico-chemical characteristics and ichthyofaunal composition of Oyan Dam and its environment were investigated monthly between December, 2017 and August, 2018. The surface water temperature, pH, Total Dissolved Solids (TDS) were measured in-situ with a portable Hanna TDS/pH meter - (HI9813-6). The Dissolved Oxygen (DO), Biological Oxygen Demand (BOD), Chemical Oxygen Demand (COD), Phosphate, Nitrate, and Nitrite were determined in the laboratory using standard methods. The monthly total rainfall, relative humidity, and air temperatures were obtained from world weather online/Abeokuta weather. Fish abundance (ichthyofaunal composition) was determined by monitoring and recording the catch from fishermen. The pH ranged between 6.9-8.2, 7.2-8.3, and 7.0-8.2 in Apojola, Dam site, and Ibaro respectively. Highest DO 7.86 mgL-1 and lowest 4.2 mgL-1 were recorded in the Dam site in April and July. Eighteen fish species belonging to ten families were encountered in the study. The family Cichlidae contains more fish species than any other family. Ichthyofauna species recorded were Oreochromis niloticus, Tilapia guineensis, Sarotherondon galilaeus, Tilapia mariae, Tilapia zillii, Chrysichthys nigrodigitatus, Sarotherondon melanotheron. Chrysichthys nigrodigitatus was the most abundant (16%) and occurred throughout the sampling period. The least abundant species (0.05%) Parachanna obscura, occurred only in December and January. The study revealed that Bagridae represented by Chrysichthys nigrodigitatus contributed to the highest number of fish. The physico-chemical parameters are within the range for culturable species. Nigeria can derive a substantial proportion of its fish demand from the Oyan Dam, if private and public sectors were allowed to culture fish in the dam.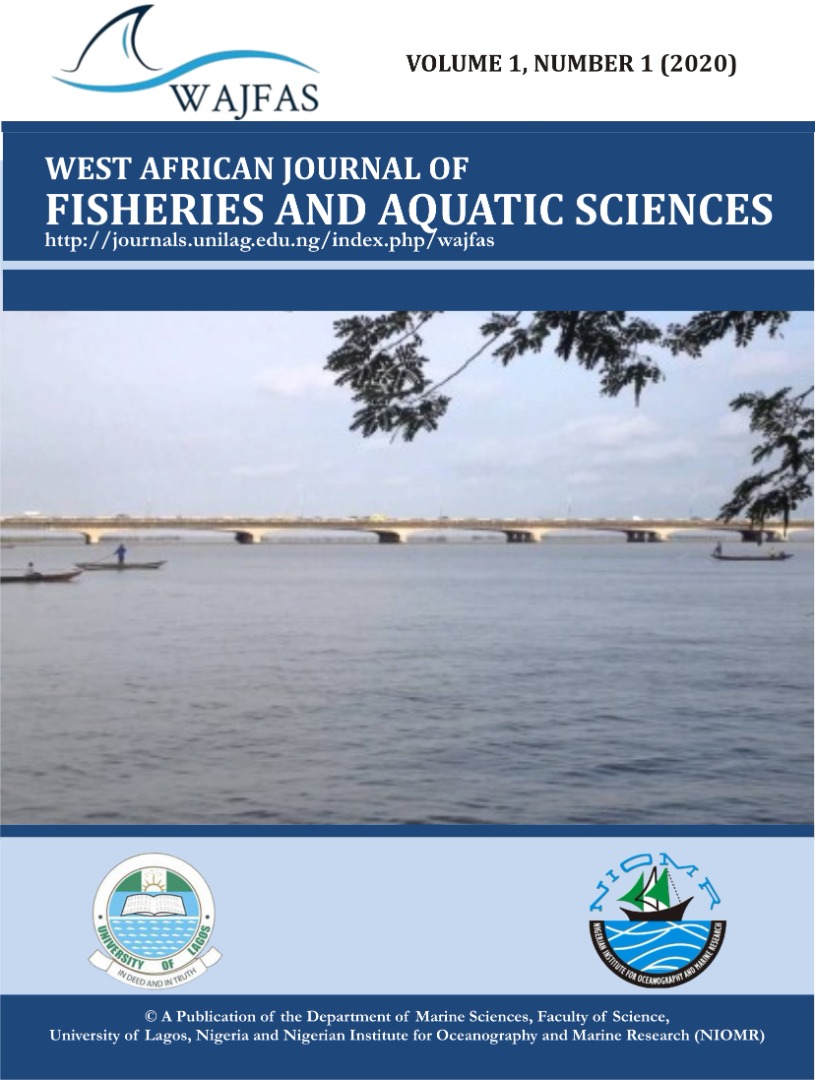 How to Cite
Osibona, A. O., & Ayoola, S. O. (2020). Physico-Chemical Parameters and Ichthyofauna Composition of Oyan Dam Area, Ogun State, Nigeria. West African Journal of Fisheries and Aquatic Sciences, 1(1), 17-25. Retrieved from http://wajfas.unilag.edu.ng/article/view/545
Section
Research Articles
Copyright (c) 2020 Adesola O. Osibona, Simeon O. Ayoola
This work is licensed under a Creative Commons Attribution 4.0 International License.

This work is licensed under a Creative Commons Attribution 4.0 International License. This journal publishes an open access article distributed under the Creative Commons Attribution License (CC BY), which permits unrestricted use, distribution, and reproduction in any medium, provided the original author and source are properly credited.
Authors who publish in WAJFAS agree to the following terms:
1. Authors retain copyright and grant the journal right of first publication with the work simultaneously licensed under a Creative Commons Attribution License that allows others to share the work with an acknowledgement of the work's authorship and initial publication in this journal.
2. Authors are able to enter into separate, additional contractual arrangements for the non-exclusive distribution of the journal's published version of the work (e.g., post it to an institutional repository or publish it in a book), with an acknowledgement of its initial publication in this journal.
3. Authors are permitted and encouraged to post their work online (e.g., in institutional repositories or on their website) prior to and during the submission process, as it can lead to productive exchanges, as well as earlier and greater citation of published work